Licensing and Usage Notes
The FreeCAD license is LGPL 2+ (GNU Lesser General Public License Version 2 or later).
(cf. GNU Lesser General Public License version 2.1 | Open Source Initiative)
This license allows you to:
Free of charge for commercial and non-commercial use
Redistribute source code and executable files
View and edit the source code
But the following points should be noted
No warranty is provided.
The copyright notice must not be removed.
When redistributing executable files, you must disclose the source code to users when they request it.
When you distribute the program with your own modifications, or you use it as part of another program (see footnote), the program license must be LGPL (or LGPL-compatible license).
Footnote: It is often interpreted that this excludes use as a separable dynamic library.
How to check the license
The license can be checked on the license screen during installation or, after installation, on the "License" tab of the dialog that appears when selecting [Help]-[About FreeCAD] from the FreeCAD menu.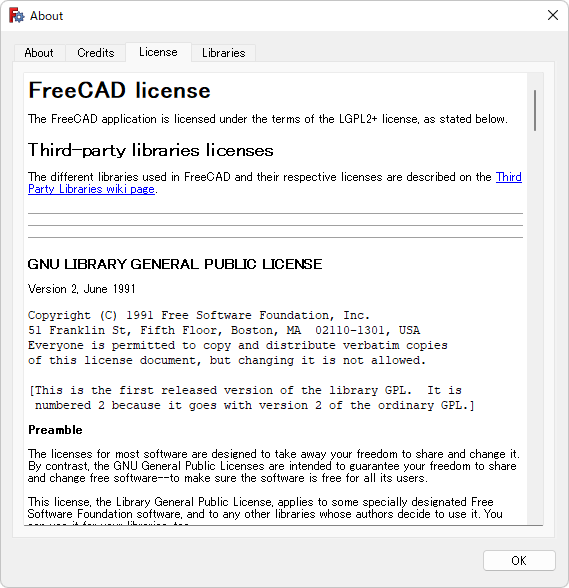 For FreeCAD add-ons, you need to check each add-on license, which is provided separately from the FreeCAD license (most of them are under the GPL or LGPL license).
References