Select [Edit]-[Preferences...] from the menu.
In [Display] of Preferences dialog, select [Navigation] tab and select a mouse operation mode from [3D Navigation] combo box.
Click
and apply your settings.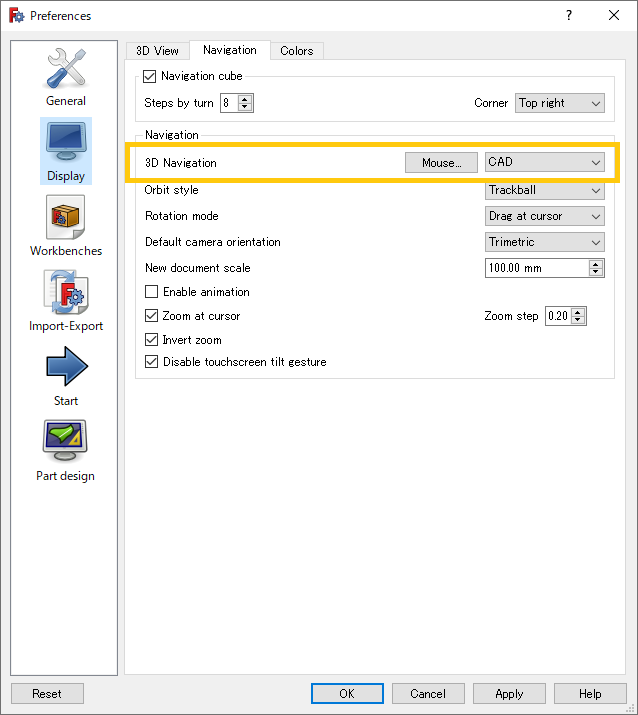 Preferences dialog - Mouse operation mode
You can also set the mouse mode from the status bar as shown below. If the status bar is not displayed, you can display it by selecting [View]-[Status bar] from the menu.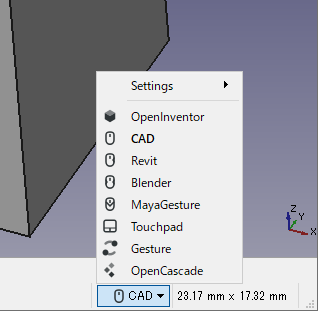 You can select one of following mouse modes.
OpenInventor mode

Mouse operation mode that is compliant with Open Inventor. Open Inventor is a 3D-Graphic Toolkit.

| Select | Pan | Zoom | Rotate View |
| --- | --- | --- | --- |
| CTRL + | | | |

CAD mode(default)

Mouse operation mode that is default mode of FreeCAD.

| Select | Pan | Zoom | Rotate View |
| --- | --- | --- | --- |
| | | | or |

If you use 2-buttons mouse, you can use a operations mode for 2-buttons mouse.

Pan
Zoom
Rotate View
CTRL + click

CTRL + click
CTRL + click

CTRL + click
CTRL +

Revit mode

Mouse operation mode that is compliant with Autodesk® Revit®. Autodesk® Revit® is a 3D-CAD for building/architecture.

| Select | Pan | Zoom | Rotate View |
| --- | --- | --- | --- |
| | | | SHIFT + |

Blender mode

Mouse operation mode that is compliant with Blender. Blender is the open source 3D-CG software.

| Select | Pan | Zoom | Rotate View |
| --- | --- | --- | --- |
| | SHIFT + | | |

Maya gesture mode

Mouse operation mode that is compliant with Autodesk® Maya®. Autodesk® Maya® is a 3D-CG software.

Select
Pan
Zoom
Rotate View
Tap or
Drag with 2 fingers or

ALT +

Pinch (drag 2 fingers to close/apart each other) or or

ALT +

or PageDown/PageUp
Drag with a finger or

ALT +

Touchpad mode

Mouse operation mode for the environment that have no 3-button mouse. For example, notebook/laptop etc...

| Select | Pan | Zoom | Rotate View |
| --- | --- | --- | --- |
| | SHIFT + | SHIFT + CTRL + | ALT + |

Gesture mode

Mouse operation mode for the touch-screen like tablet etc...

| Select | Pan | Zoom | Rotate View |
| --- | --- | --- | --- |
| Tap or | Drag with 2 fingers or | Pinch (drag 2 fingers to close/apart each other) or or PageDown/PageUp | Drag with a finger or |

Open Cascade mode

Mouse operation mode that is compliant with Open Cascade. Open Cascade is a CAD kernel that is used in FreeCAD.

| Select | Pan | Zoom | Rotate View |
| --- | --- | --- | --- |
| | CTRL + | CTRL + | CTRL + |
References